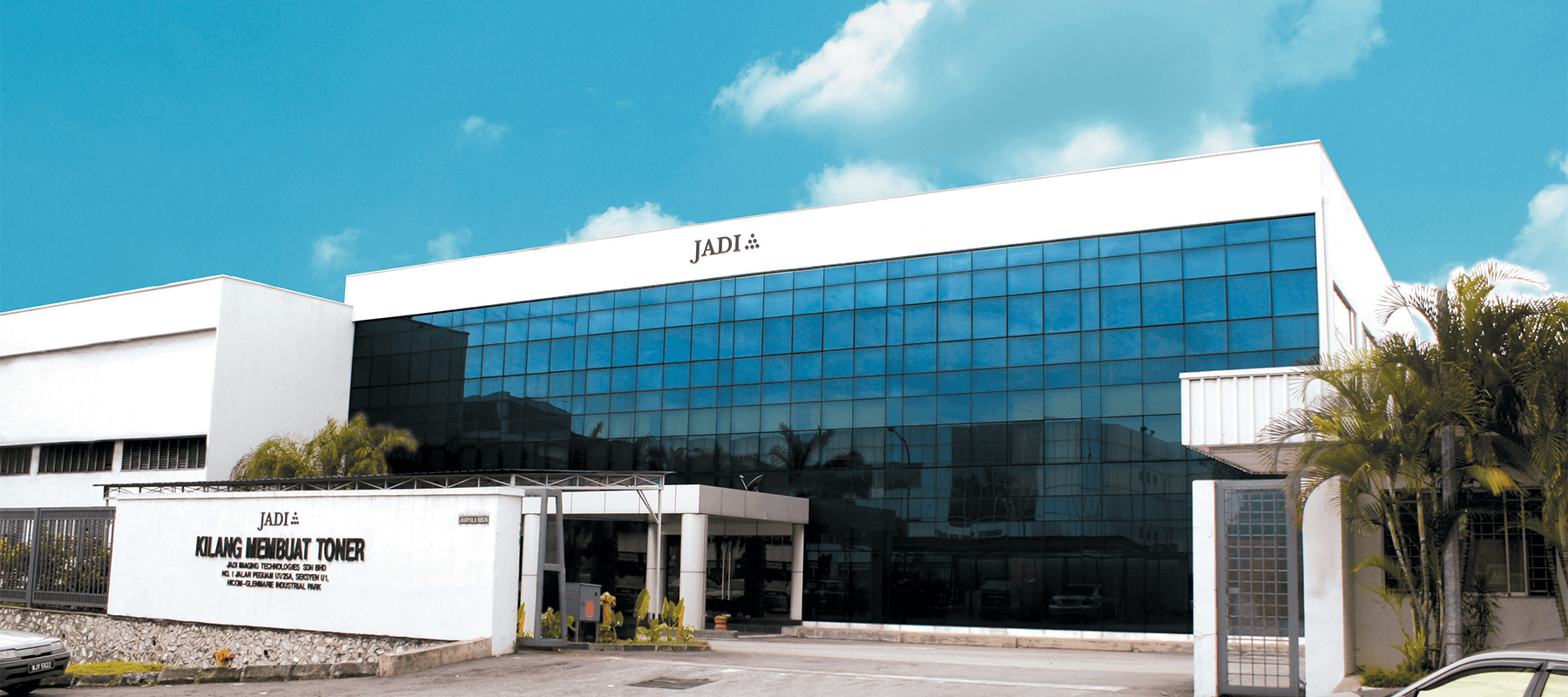 JADI IMAGING TECHNOLOGIES SDN. BHD., through its worldwide subsidiaries, is a world-class independent toner manufacturer. The Group is principally involved in the development, formulation and manufacturing of toners for laser printers, photocopiers, facsimile machines and multi-function office equipment. The company was founded in 1993 and is headquartered in Hicom-Glenmarie Industrial Park, Shah Alam, Selangor, Malaysia, where its main manufacturing and R&D facilities are located.
As an investment holding company, Jadi Imaging Holdings Berhad was listed on 20 April 2006 on the Second Board of Bursa Malaysia. On August 22, 2007, just slightly more than a year later, it was transferred to the Main Market. As of August 9, 2016, Jadi has a total of 941.8 million shares outstanding and a market capitalization of RM75.3 million.
The Group has the following key wholly-owned subsidiaries:
1.  Jadi Imaging Technologies Sdn. Bhd., Malaysia. (JIT Malaysia)
2.  Zhuhai Jadi Imaging Technologies Co.Ltd., China. (JIT Zhuhai)
3.  Jadi Imaging Solutions Sdn. Bhd., Malaysia. (JIS Malaysia)
4.  Jadi Chemicals Sdn. Bhd., Malaysia. (JC Malaysia)
5.  Jadi Imaging Solutions (UK), Limited, United Kingdom. (JIT UK)
Company Structures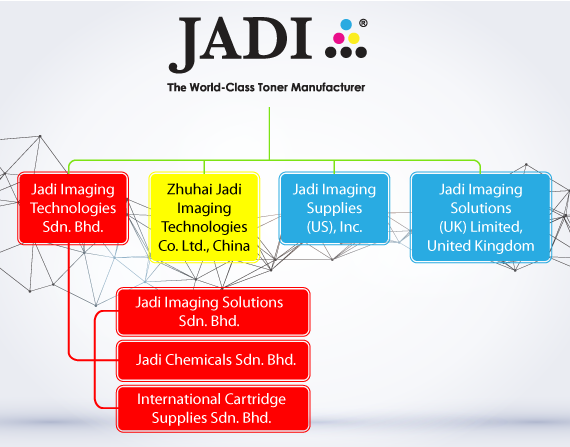 JADI is committed to total customer satisfaction through providing consistently high quality products and services which meet or exceed the expectations of its worldwide customers. It is Jadi's belief that it must adopt the best quality management system to achieve the highest quality standards in order to succeed in an increasingly competitive global market. Thus, the company's research and development (R&D) facilities are fully-equipped to develop and formulate toners that meet or exceed the quality standards of OEMs. In addition, Jadi's strong emphasis on innovation makes it a leader in the R&D of new products to meet worldwide demands in a timely manner. Close collaboration with research institutes to develop groundbreaking toner technologies has also enabled Jadi to remain ahead in terms of product development.
JADI PRODUCTS
At JADI, we are committed to providing quality assurance to our customers. This assurance covers not only JADI products but also JADI services. At JADI, we stress highly on quality and therefore, benchmark our products with OEM standards. Resins are the major component in toner manufacturing process and JADI manufactures its own styrene acrylic toner-resin for its own consumption. Being the only toner manufacturer to do so, it becomes the source to the premium quality of JADI products and more importantly, its consistency. JADI stays strong to its core value, upholding the status of a world-class independent toner manufacturer.
OUR VISION
To be an integrated company which provides solutions for the global imaging supplies industry.
OUR MISSION
Customer satisfaction in every decision.